Back to the Real World
One of the highlights of my recent sabbatical was spending five days in silent retreat in October with Benedictine monks at their New Melleray Abbey near Dubuque, Ia. Over the years, I have benefitted greatly from being a guest at various Benedictine monasteries in the United States. For my energetic, more extroverted personality, taking time for more reflection, solitude and prayer reaps great rewards for me personally. I love being with people, which is one of the reasons why ministry is so enjoyable for me. But, every now and then, I need to completely pull away and be alone with God and my own thoughts. The reality and presence of God renews me, lifts my vision, when I finally take time to be in silence before him. As the Psalmist wrote; "Be still, and know that I am God." (Psalm 46:10)
When my retreat was nearing its end, I found myself alone saying farewell to Father Jonah, the monk assigned to welcoming guests. He asked me about my retreat experience. I was effusive about how much I had enjoyed it. He smiled, knowing how much I meant what I said. He told me that some guests will say to him as they depart the Abbey, "I loved it here, but now I need to go back to the real world." Choosing his words carefully, and without missing a beat, he asked me, "Dan, which do you think is the real world, in here, or out there where you are now headed?" I said, "In here, that is why my soul thirsts to be alone and praying with you." Father Jonah replied, "I agree. That is why I decided to join this abbey 30 years ago. It is my calling to be here and serve seeking and earnest people like you. You have decided to give God your full attention for these days, and he will bless you for that decision."
We live in a fallen world. It may not appear that way when we see a beautiful sunset, or tell someone we love them; but if we live long enough, most of us will come to the conclusion that something is terribly broken within the human heart that is in need of fixing. There is something that makes us tragically self-centered, selfish and prone to pride even as hard as we try on our own not to allow those forces to overwhelm us. God, however, has not left us alone in trying to correct this inherent flaw in our humanity. He sent his son to live among us and die for our transgressions, in order to liberate us from the suffocating and oppressive effects of our fallen world. If we turn to him, confess our weaknesses and errors, recognizing how they have negatively impacted ourselves and others, we will be forgiven and given new life each and every day. The real world will become increasingly a part of our own world.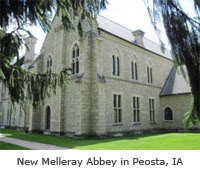 The Benedictine monks gather together as a group in their sanctuary and pray seven times every day, beginning with Vigils at 3:30 a.m. When I first arrived at the monastery, I was not quite ready to rise at 3 in the early morning to join the monks for their first round of daily prayers. But, I was pretty good at making all the other worship and prayer gatherings. If I was not with the monks, I was alone in my room praying, reading the Bible and other books, and writing in my journals. I also enjoyed taking long walks in the Iowa countryside, watching the corn being harvested under beautiful, blue skies. As each day went by, I could feel my heart slowing down, as I enjoyed the greater peace and solitude of the monastery. It was such a wonderful experience.
Finally, on my second to last day at the monastery, I was able to retire early enough to rise at 3 a.m. to join the monks for their Vigil prayers. It was one of my favorite moments of my entire sabbatical. Before entering the warm light of the sanctuary where the monks were beginning to gather, I stepped outside and looked up with amazement at the dark and beautiful sky above me. The moon was shining brightly, the stars sparkling above in the crisp and refreshing air. The environment was still and peaceful as most of humanity in the surrounding area was asleep. It occurred to me; these monks were night watchmen, praying for their towns, country and world while their sheep were asleep. They were laboring in prayer, disciplined and dedicated to confronting the dark spirits of our world for the sake of their flock and in the name of our savior, Jesus Christ. With tremendous gratitude, I went inside the chapel and joined them in prayer.
Nearly every time the monks gather, they recite the Lord's Prayer. Over the course of my five days, this exercise became very meaningful to me. Asking for daily bread, seeking forgiveness as well to be forgiven, and wanting to be delivered from evil had everything to do with the thoughts my contemplation and prayers were bringing to my attention. More than ever, it became evident to me that the heart of the Christian life is confession. Yet, so much of the world today struggles with the idea of sin. Sin seems negative to so many people these days. But, without recognizing sin in our own selves, there is no liberation and freedom for our souls, and little to no personal growth in our character. Without confessing sin, we live in greater bondage to the world, becoming slaves to false idols while distancing ourselves tragically from greater maturity. By the time I left the monastery, I was searching every area of my life I could possibly confess. And, in doing so, I never felt freer.
Now I want to be a night watchman, too. The Bible asks us to be alert, sober-minded, and vigilant as to what the Lord is doing in our midst and in our world. Going on retreat is not going backwards. It is the most forward-minded thing we can do. We must retreat periodically if not daily in order to move forward with purpose and joy in our lives. Our souls are in constant need of realignment, and to forget this truth is an invitation for greater peril and frustration in our lives.
My experience in Iowa reminded me of the shepherds out minding their sheep at night when the angel spoke to them about the Savior of the world being born in their midst. They, too, were under the stars, being watchmen for their sheep, and for their town. Because of their vigilance, God spoke to them, and chose them to be instruments of his grace. The Gospel writer, Luke, tells us; "That night there were shepherds staying in the fields nearby, guarding their flocks of sheep. Suddenly, an angel of the Lord appeared among them, and the radiance of the Lord's glory surrounded them. They were terrified, but the angel reassured them. 'Don't be afraid!' he said, 'I bring you good news that will bring great joy to all people. The Savior – yes, the Messiah, the Lord – has been born today in Bethlehem, the city of David.'….Suddenly, the angel was joined by a vast host of others – the armies of heaven – praising God….The shepherds went back to their flocks glorifying and praising God for all they had heard and seen." (Luke 2:8-13a, 20a)
Christmas is a wonderful time to accept this invitation to join the greatest of all movements in human history, God coming to earth to save us from the clutches of our fallen world. The real world of our Lord, where the armies of heaven dwell, is calling not only shepherds out minding their sheep to join him in bringing the kingdom of heaven to earth; he is calling each one of us, too. So find a quiet place this holy season and listen for his voice and what he wants for you.
My family and I hope you and your loved-ones have a joyous and Merry Christmas!