An Eye-Opening Experience
Earlier this month along with 4,000 other political and religious leaders, I had breakfast with President Donald Trump. For 66 years, senators and congressmen have organized a National Prayer Breakfast for the president every second Thursday in February. It is refreshing to see Republicans and Democrats with their arms around each other, telling stories of their weekly Bible studies and prayer sessions in Congress. The overarching theme is humility. Human intelligence and political resolve can only take a leader so far. The enormous challenges in our country, not to mention those of the world, require prayer. God is the only one who can provide a solution or a new, clear path to problems that seem intractable without promise. Without prayer, our problems will only multiply and become worse.
In recent years, I have brought Muslim leaders with me to the National Prayer Breakfast (NPB). They have felt honored to be invited; they enjoy their time conversing with Christians and other religious leaders while praying for the president and other political leaders of our nation. The NPB runs for three days. Numerous speakers from around the world are invited. In fact, more than 160 countries are represented. At the Middle East luncheon, I sat next to people from Albania and the Marshall Islands; we listened to riveting testimonies of peacemaking and reconciliation from Rwanda and Syria. Each time a speaker rose to the podium, his or her first words sounded a familiar theme, "You may think that Jesus was a good rabbi, or you may consider him the holiest of all prophets, or you may call him Lord of the universe, but we are gathered here today in the name of Jesus of Nazareth. In the name of Jesus, we pray."
Few people in the world do not like or respect Jesus. Have you ever heard anyone say anegative thing about him? Muslims love him. Jews respect him and most other religions and philosophies in the world, including atheism, acknowledge the timeless value of what Jesus taught and modeled. People may have trouble with or object to parts of Christianity or the Church. But hardly anyone objects to the life and teachings of Jesus. For this reason, people gather in Washington DC every year, as well as in other countries around the world, to pray in the name of Jesus – for wisdom, peace, and reconciliation for the pressing and daunting challenges of our world.
But, how about you? Who do you say Jesus is? Do you rely on others to tell you about him, or have you ever gone to the original sources, and read about him yourself? Have you ever read just one of the four gospels – all the way through on your own, or perhaps with the help of a friend, to strengthen your relationship with Jesus? Now is a perfect time to do so.
Last week was the beginning of the Lenten season. Between now and Easter, the Christian calendar asks us to take time to examine our lives, to be dead-honest with ourselves about our shortcomings, regrets and sins. It is a wonderful time to ask Jesus for forgiveness, grace and mercy in our lives. But, with what faith do we approach Jesus? Do we believe he was just a great man and teacher as embraced by such groups as the Unitarians, Muslims, Hindus and Jews — or do we believe he was the one and only son of the living God – and still alive today?
Few things display evil more clearly than what Nikolas Cruz did in Parkland, Fla. last week on February 14th, which was on Ash Wednesday and also Valentine's Day. Following the influences of the demonic world, Cruz committed a violent act not only against our Creator God, but against Christianity and humanity as a whole. Evil overwhelmed an entire, innocent American high school during the same hours people were emerging from churches with ashes on their foreheads, or holding flowers or cards in their hands to give to their loved ones.
None of us can say that Jesus is Lord apart from the working of the Holy Spirit in our lives. It is not an intellectual conclusion. It is an eye-opening experience that miraculously happens to us. Think about your own life. When did you make Jesus the Lord and Savior of your life? When did you finally decide that Jesus is God, not just a good man? Whenever that might have happened, it was not of your own doing. It was a gift from God, born fromgrace, most likely the result of someone praying for you. Faith is a miracle, not an achievement. Without it, our lives are aimless, hopeless, unanchored, and often miserable. Satan, working through Nikolas Cruz, was attacking faith itself on Ash Wednesday, not just innocent children. Our country is inching closer to losing a reverent, humble faith in God. We will either reach up and pull down from our dusty shelves the four Gospels and the teachings of Jesus and carefully read them, or we risk being further led down the destructive paths of evil often disguised as "truth" and so-called righteousness.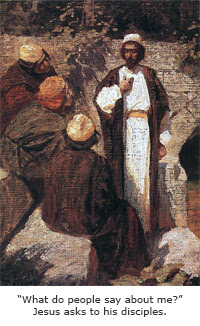 Jesus never lets anyone off the hook. He wants to know what each one of us thinks of him. For this reason, as Jesus approached the district of Philippi, he asked his disciples, "'Who do people say that the Son of God is?' And they said, 'Some say John the Baptist, but others Elijah, and still others say Jeremiah or one of the prophets.' He said to them, 'But who do you say that I am?' Simon Peter answered, 'You are the Messiah, the Son of the living God.' And Jesus answered him, 'Blessed are you, Simon son of Jonah! For flesh and blood has not revealed this to you, but my Father in heaven.'" (Matthew 16:13b-17)
If you are wanting friends or family members to become followers of Jesus, pray for them on a regular basis! You cannot argue or debate a person into faith. You must love them with your whole heart and pray for the Holy Spirit to open their eyes to see the true nature of Jesus and the world he created. In Jesus, we can see the world and all relationships within it as they were intended to be. Pray, too, for the leaders in our country that they make wise decisions about very complicated matters. Today, especially, there are diabolical forces in our world trying to destroy our country. Without devout prayer to our Lord Jesus, and a willingness to follow all his teachings, not just the ones we like, we will continue to head down darker and darker paths in our country's history.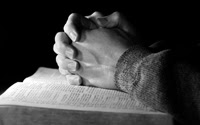 Satan may have attempted to stop the progression of Lent this year and the love we celebrate on Valentine's Day, but praying people, those ready for action using the weaponry of love, in the name and spirit of Jesus, will not be stopped. The need for prayer, humility, mutual respect, and reconciliation has never been greater in our country. May we not be tempted to fight these battles with our own flesh and blood and keenness of mind. But, may we fight them in the resurrection power of Jesus, towards which we walk this Lenten season.
As Paul wrote to the Ephesians; "You were dead through the trespasses and sins in which you once lived, following the course of this world, following the ruler of the power of the air, the spirit that is now at work among those who are disobedient. All of us once lived among them in the passions of our flesh and senses, and we were by nature children of wrath, like everyone else. But, God, who is rich in mercy, out of the great love with which he loved us, even when we were dead through trespasses, made us alive together with Christ – by grace you have been saved – and raised us up with him and seated us with him in the heavenly places in Christ Jesus." (Ephesians 2: 1-6)
May each of you this Lenten season, find the joy, peace and love that can only come through belief in our Lord and Savior, Jesus Christ.
Rev. Dan McNerney