Our country is in crisis. It may not appear that way with the economy booming and unemployment figures at historical lows. However, underneath that surface are millions of people suffering from the new number one health hazard in our country; loneliness. The side effects of loneliness are killing people at a faster rate than heart disease, obesity and cancer. People are dying from feeling disconnected from others, themselves or from life itself. At an alarming rate, they are sliding into despair.
Yet, how can this be if the social media giants are telling us that humans have never been more connected in history than they are now through the internet and other media platforms? Could it be true that internet connectedness is not the same as real, live, face-to-face interaction with other people? The answer is obviously yes because statistics from recent social research are telling us so. According to the National Institute of Mental Health, the suicide rate increased by more than 30 percent from 2001 to 2017. In 2018, 73,000 people died from drug overdoses. Recent research demonstrates that loneliness is as physically dangerous as smoking 15 cigarettes a day and contributes significantly to cognitive decline, including more rapid advance of Alzheimer's disease. Despite the many scientific advances in our world today, the average American life-span has declined for the last three consecutive years. Health-wise, our society is headed in the wrong direction.
In the new book by Senator Ben Sasse, Them: Why We Hate Each Other – and How to Heal, he writes; "We're literally dying of despair," or the failure "to fill the hole millions of Americans feel in their lives today." The irony is that in recent years, Americans have become richer, more informed, and more "connected" than ever – and yet unhappier, more isolated and less fulfilled at the same time. Satisfaction in work, active participation in community activities, and time alone apart from smart phones are at an all-time low. We have become a culture of distractions and unhealthy independence. Even worse, as Sasse points out, social media, "those tendrils of resentment," has become an accelerant for political anger, having created a nuance-free "outrage loop" for "professional rage-peddlers." And, "for people for whom enemies have the psychic value of giving life coherence." From people's increasing isolation, loneliness and despair has emerged a frightening elevation and frequency of anger, making hatred almost seem normal in American life today.
Back in the First Century during the years immediately following the life, death and resurrection of Jesus, the new believers in Christ were often encountering persecution from the Roman authorities and Jewish leaders. They were being encouraged to give up their new hope in the Messiah and return to either their old Jewish customs and/or embrace and worship any one of the multiple Roman gods, including the emperor himself. The writer to the Hebrews sensed the dangers of these new believers being more isolated and losing daily contact with each other in their becoming increasingly scattered. When Christians lose contact with each other, they often fall prey to the prevailing cultural influences of their day; they become weaker in their beliefs. When Christians gather together on a regular basis, face-to-face, they are encouraged; their hope and faith are stronger. And, for this reason, the writer to the Hebrews, said, "Let us hold tightly without wavering to the hope we affirm, for God can be trusted to keep his promise. Let us think of ways to motivate one another to acts of love and good works. And let us not neglect our meeting together, as some people do, but encourage one another, especially now that the day of his return is drawing near." (Hebrews 10:23-25)
Have we in America become too casual in our deep human need to gather and meet with others, especially with other members of the Body of Christ, on a regular basis? Are we "doing" church from the comforts of our living rooms, but all alone, perhaps watching sermons on our television sets, in place of being shoulder to shoulder with our neighbors and fellow believers? The writer to the Hebrews is suggesting that we need to be physically together in order to motivate and encourage each other to acts of love and good works. We need to get together on a regular basis not only for our own benefit, but for the benefit of others we affirm and encourage.
In Saudi Arabia today, any other religion besides Islam is strictly forbidden. The Saudis do not believe in freedom of religion. In fact, they make sure Islam is the only religious option for every one of its citizens. If a Bible or a worshipping Christian community is discovered, it is immediately confiscated, arrested and shut down. Religious policemen for the Saudi Arabian government are scouring the cities every second of every day looking for dissidents. However, this is not stopping the increasing number of Muslim background believers in Christ in Saudi Arabia from meeting. I have been told there are now secret worshipping communities spread throughout Saudi Arabia that are meeting on a regular basis, some including 200 to 300 people at a time. Painstakingly, the leaders of these underground churches will take five to six people at a time in a van to a certain residential house until they have transported all 300 people into a basement meeting hall. This very special community of believers will worship in great joy as quietly as they can but for two to three hours at a time. Afterwards, they will reverse the process and the leaders will take everyone home, slowly but surely, five to six people at a time, hoping that no one notices them, but with great hope and love in their hearts having been recently encouraged. The whole process might take seven or eight hours in total to complete, but that never stops or daunts them.
In Iran, the same kind of thing is happening, but on a much grander scale. The Ayatollah Khamenei and his Revolutionary Guard are panicked because they are losing hope they will be able to stop the underground church from growing into something that potentially could threaten the future of their regime. Nevertheless, they continue to aggressively raid homes they suspect of being gathering places for new Christian believers. But, for every person they catch and jail, hundreds more continue to worship underground, strengthening each other's faith and spurring one another on towards acts of love and good works. No one in history has ever been able to stop a "Jesus movement" once it gains sufficient momentum, especially when the new believers find ways to continue meeting on a regular basis.
The Church in America today needs to be incredibly careful not to fall prey to current cultural influences, especially the lure, and supposed advantage of being alone with our many, new electronic devices, and other deceiving possessions. In the Christian life there is no advantage to being alone, unless of course you are praying, participating in an organized retreat, or are taking vows of solitude. Otherwise, Jesus wants us to participate in constant community, fellowship, and face-to-face gatherings on a regular basis. The deepest parts of our soul are constantly craving human contact, understanding and opportunities to exchange love. If we do not schedule and enjoy regular gatherings, face-to-face, we often lose hope, become increasingly isolated, frustrated and even angry. All the material possessions in the world and so called advantages of modern life, can never give us what our hearts truly need if they do not include regularly scheduled times of fellowship and personal sharing.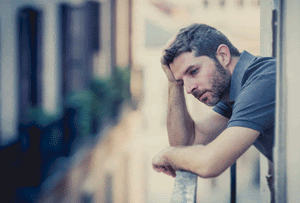 If you are feeling increasingly lonely, or know someone who is lonely, don't remain alone! Don't allow yourself to be trapped by our current cultural climate or messages either. Fight against them. Your heart knows better. Find a way to join a group that meets on a regular basis, especially one which puts Jesus in the center of the room; that way you will never be alone with the Good Shepherd loving and guiding you wherever you go. There is no despair, loneliness, fear or lack of hope in the Good News. For, as Jesus himself said to his followers, "For where two or three gather together as my followers, I am there among them." (Matthew 18:20)